Moyola Park FC attended the David Healy FITBA 2008 day at the Mid Ulster Sports Arena on Saturday 14th June 2008. A total of 48 boys and girls from the age of 5 – 15 participated a fun filled 3 hours of football coaching and also Ulster Scots Music and Dancing. Among the coaches who took the shooting practise where Linfield Striker Glenn Ferguson, Glenavon Keeper Tuda Murphy and David Healy MBE who took penalties against some of our kids as well as our ladies goalkeeper Deborah Rankin who failed to stop David finding the net as usual. Each kid also received a goodie bag from the Ulster Scots Agency.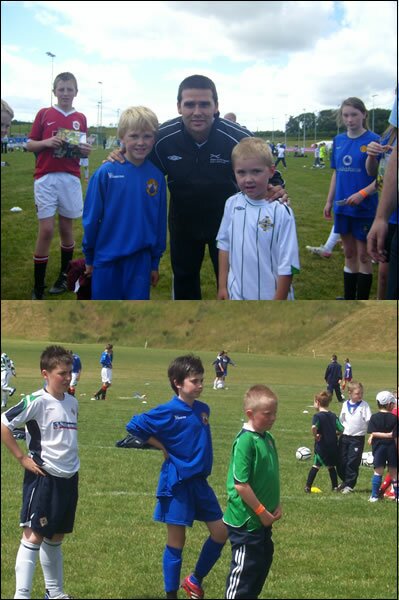 Moyola Park Youth and Ladies have been extended an invite over to Celtic and Rangers Community Project for training sessions and matches.
Robin Martin, Jillian Lennox and Gregory Stewart met up with Celtics and Rangers Club coaches on Saturday at the David Healy Fitba Day at the Mid Ulster Sports Arena, Cookstown.
Celtic Coach David Holsworth and Rangers Coach Darren McLean (who plays for Partick Thistle) were delighted to hear about the cross community based club of Moyola Park and once in a while Colin Atkinson (another Rangers Coach) smiled as he reminisced about his days when he played for Queens against Moyola at the park in the early 90's in the old B Division.
This year our youth are off again to Hibernians to play matches at Under 13 and Under 15 level.
Last year our club invested a lot of money in gaining coach qualifications, now having 20 qualified coaches at different levels with the aim of progressing further with these qualifications in the near future.
This coming season we hope to have Under 12, Under 14 and Under 15/16 youth teams, as well as our Mini Soccer Centre and also hoping to set up an under age ladies youth team.
If you want to be part of Moyola Park's ambitions you are welcome to come and join our club and move forward with us into the future.
Contacts are Mr Robin Martin on Mob:- 07821068516 for youth and Jillian Lennox on Mob:- 07821599369 for ladies.''