MOYOLA PARK FOOTBALL CLUB PRESENTATIONS TO UNDER 13'S AND UNDER 15'S
HELD AT MOYOLA GOLF CLUB - 27TH JUNE 2008
Moyola Park Football Club held its annual youth presentations in Moyola Park Golf Club on 27th June 2008. The evening was very well attended by parents and friends of both teams.
Robin Martin, Chairman commenced the evening by thanking everyone for their support both from parent's committee, 1st team committee and parents.
A special thanks goes to Roland Holmes in securing sponsorship for the youth teams throughout the season.
Another special thanks goes to Sarah McAllister, mum of Daniel who plays for the Under 13 team through winning a kit via a competition in the local newspaper sponsored by CIS Co-Operative Insurance.
It was a great achievement for Moyola Park Youth to have both the Under 13's and Under 15's reach semi-finals with the Under 13's finishing 3rd in their League.
All are welcome back to training which will commence on 5th August in preparation for their trip to Hibernians 29th – 31st August 2008 where they will play matches against Hibernians Youth.
Awards are as follows:-
Under 15's
Conlath McErlean: Players Player of the Year
Patrick McGuigan: Player of the Year
Gerard Keenan: Young Player of the Year
Nathan Rocks: Top Goal Scorer
Under 13's
Aidan Keenan: Players Player of the Year
Ryan Connery :Young Player of the Year
Neil Smyth: Goal of the Season
Kyle Bradley: Top Goal Scorer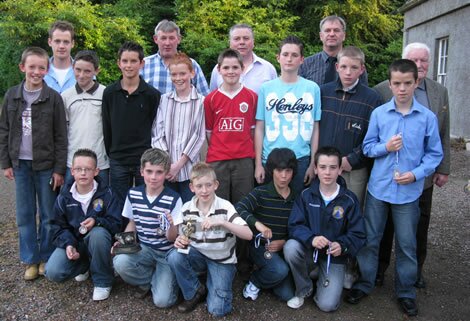 Under 13's finishing 3rd in the League.
Danny Devlin, Under 13 team presented George Lennox, Coach with a gift in recognition for his time spent as Coach with the Under 13 team as he has now gone on to be part of the 1st Team Management. Welcomed on board to assist with coaching the Under 13's is Barry Devlin and Gregory Stewart along with Robin Martin.
Niall Curneen, South Derry Grassroots Officer praised the work and dedication of the Coaches within the Youth and congratulated both the teams and the award winners on their achievements this season.
Brian Hutchinson, 1st Team Manager also gave words of encouragement to both teams and also praised the efforts of Coaches/Committees and Parents in all that has been achieved throughout the year, not only the above achievements but also the fact that Patrick McGuigan being the first from Moyola Park Football Club to be chosen for the Milk Cup. Brian also referred to the fact that the 1st Team squad consists of some players who commenced as part of the youth team with Moyola and encouraged the boys to strive towards this, this is all part of progression within a Club which has developed and is further developing. Brian commented that Moyola Park Football Club was a family run Club and one which he was proud to be part of. Brian wished the players all the best for their new season commencing in August.
It was also a privilege to have President of Moyola Park Football Club present for the Awards Night, Mr Arthur Martin. Brian highlighted to the boys that Arthur Martin was the first Moyola player to have scored against Harry Gregg, formerly Manchester United during a match held at Moyola Park Football ground many years ago.